Hiking holidays in the Dolomites – Nature experience Alpe di Siusi
The farm Mesnerhof in Fiè allo Sciliar is located in a fantastic hiking region that counts among the most popular in the Dolomites. More than 350 km of marked trails interweave the beautiful natural landscapes on the Alpe di Siusi. On the largest alpine plateau in Europe, during your hiking holiday in the Dolomites you may chose among educational nature trails, geological hiking paths and varied theme itineraries. A mystical hiking trail leads you to the legendary "Witches' Benches" at Mount Bullaccia; and on the Barefoot Trail you will come across romantic wetlands and sulphur springs. Along the way you will enjoy the beautiful views of the Sasso Piatto Massif. A hike in the borough of Fiè allo Sciliar will lead you to the Völsegg Peak. On the top, the vista embraces the green slopes of the Isarco Valley up to the bright limestone peaks of the Catinaccio and the Fiè Plateau.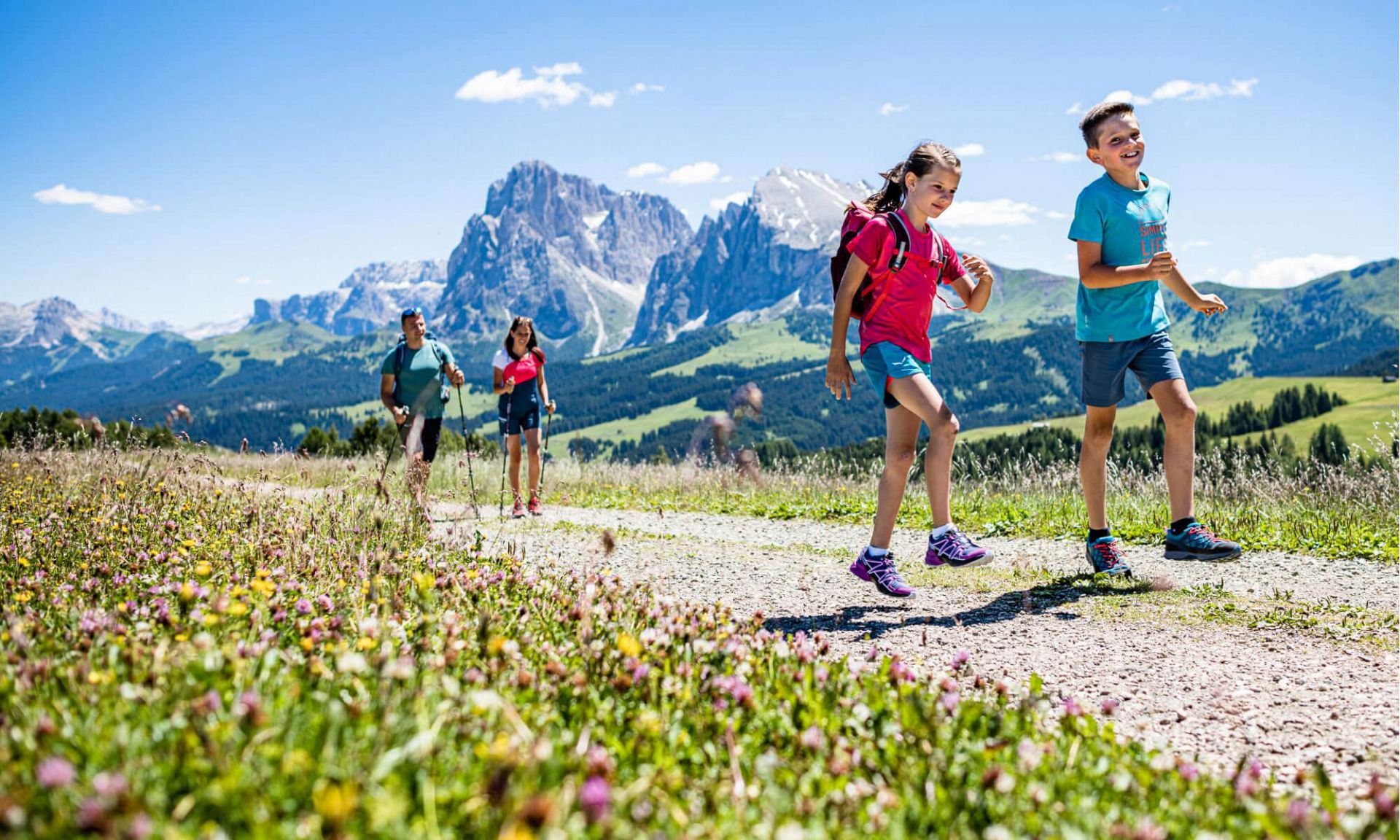 Climbing tours & peak experiences at Mount Sciliar
The borough of Fiè is dominated by the mighty rock massif of Mount Sciliar, which is one of the landmarks of South Tyrol. Since 2009, the mountain is a UNESCO World Heritage Site together with the striking peaks of the Dolomites. During a hiking holiday in the Dolomites mountaineers may conquer the mighty mountain and at the summit enjoy a marvellous panoramic view of the Nature Park Catinaccio-Sciliar. A wonderful hiking trail starts at the mountain station of the ski lift "Spitzbühl". On the way to the peak you may stopover at the lodge "Schlernhaus" at an altitude of 2,450 meters, before you climb the last 160 meters to the summit cross. A hiking holiday in the Dolomites is a pure natural pleasure between green pastures, striking waterfalls and babbling mountain streams.